College Planning is a 4 Year Process!
11/01/2021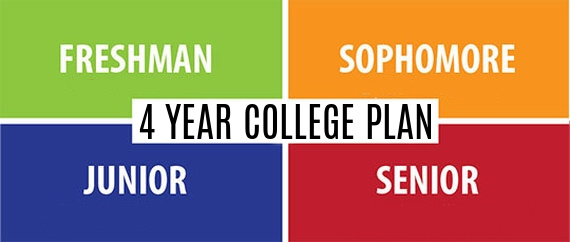 Dunbar's Tips Year by Year:
Freshmen:
· Find your footing: For most freshmen, the first few weeks of high school can be daunting. We recommend that freshman students try new activities that feel like a good fit so you can make friends and develop interests. It's also important to focus on your academic coursework. Prepare for every class, study for tests and quizzes, and pay close attention to what is required for each course.
· Speak up! Even if this feels uncomfortable, speak up if you have a question, don't understand something, or need more information about an assignment or the material. Teachers appreciate students who strive for understanding and you will feel more confident in your work going forward.
· Spend some time reading: Whatever your curriculum, reading beyond school assignments is extremely important, especially material that is related to subjects that you're studying. It will deepen your understanding and knowledge, enable you to contribute more in classroom discussion, and may well be very helpful in college admissions interviews. Some colleges even ask on their applications about reading you have done for pleasure!
—————————————-
Sophomores:
· Begin the planning: This fall, you will likely be taking the PSAT and receiving your results in December. When you get them, review these carefully with your parents, counselor and consultant and begin the process of planning your test-taking schedule for the next couple of years.
Reach out to your Dunbar Consultant who can help you sort through the numbers and next steps.
Remember that this was a practice test taken without preparation.
As always, stay plugged into your academic courses and extracurricular activities.
—————————————-
Juniors:
· Make a testing plan: If you haven't done so already, prepare your test-taking schedule now.
If you haven't decided which test to take, we recommend taking the diagnostic ACT and comparing it with your PSAT score using a concordance table you can find online. Students may find they perform better on one test over the other, or that they have a clear preference. If this is you, commit to one test and prepare for that one.
Reach out to your Dunbar Consultant to discuss your options.
Once you know which test you will take, register for the test date well in advance as testing locations often fill up quickly.
· Develop relationships with teachers: Since colleges expect letters of recommendation from junior year teachers, get to know your teachers and develop positive relationships with them. You will be asking two teachers to write on your behalf so getting to know them early in the year can make a difference in how they write about you. (We generally recommend asking one English or history teacher, and one math or science teacher.)
· Attend college representative visits (virtually or in-person): Every fall, college representatives visit high schools or host virtual sessions to provide students with opportunities to talk directly to college admissions officers. Keep an eye on your school calendar and be sure to sign up and attend these sessions for the schools that interest you, whether they be in person or through Zoom.
Sign in where appropriate to ensure the colleges have a record of your attendance
Make sure you have done some research on these colleges and take a notebook to record what you learn. This information will be very helpful for writing future application essays!
Come prepared with some specific questions that you can ask the representatives
Don't forget to ask for the name and contact information for the representative you meet so you can follow up with a thank-you note. These "touches" can matter!
· Visit colleges: If you're able to do so, begin visiting college campuses to get a sense for the schools (or types of schools) you may want on your list. Do you like urban campuses? Suburban? Rural? Do you like the feel of colleges with a large student body or a smaller one? Enjoy this time exploring your options and seeing what type of college experience may be a fit for you.
—————————————-
Seniors
· Finalize your college list: We recommend applying to approximately 10-12 colleges across a range of admissibility (Likely, Target, Reach) so you ideally will have options you're excited about from which to choose.
· Demonstrate interest in these schools: Many colleges keep track of an applicant's demonstrated interest. We highly recommend visiting campuses, attending campus rep presentations for your school, signing up for college newsletters (and actually reading them), spending time on college websites, and interviewing wherever possible.
· Know your deadlines: This is the time to become organized regarding what needs to be done and by when. It helps to make a schedule of when each requirement for your college application(s) is due. Advance planning pays off and reduces stress.
· Grades still matter: Even though it is tempting to want to cruise in your senior year classes after three years of working hard, the grades you receive in your fall courses make a difference in your overall applicant profile. Admissions decisions can be rescinded if there is a significant fall off in academic performance. Do not fall behind in your work and reach out to teachers if you need help or clarification on assigned work or tests.
· Mind your online presence: Be smart about how you present yourself on social media as colleges and university admissions offices sometimes research their applicants' social media presence.