Deferred or Denied?
12/29/2020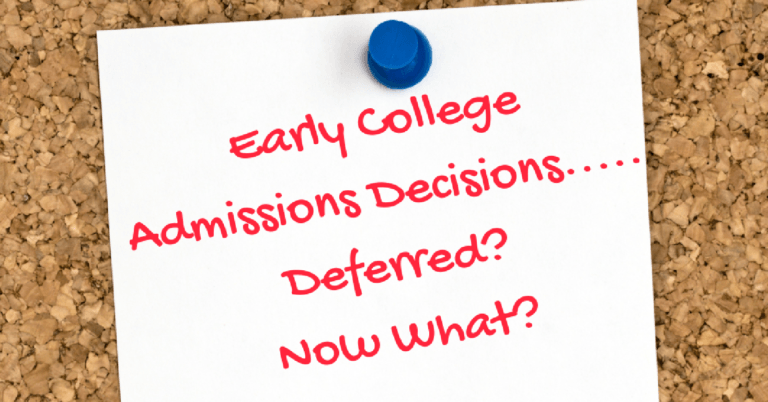 Deferred or Denied? Don't be discouraged.
If December did not bring the news you were hoping for in terms of Early Action or Early Decision results, do not lose heart. Try to see this for the opportunity it is –– having more choices this spring could be more empowering than you imagine right now.
In the meantime, here are some next steps:
• First, consider the colleges still on your list. If there is one you love that also offers ED2, consider taking them up on that option. The ED2 commitment might give you an edge in admissions at that college.
• Complete your other Regular Decision applications with the same care and attention to detail that you did your early apps. Remember, no college wants to feel like they aren't a priority, so make sure you are giving each your full focus as you complete it.
• If you were deferred, send a short & sweet email to your admissions representative reiterating your continued interest in the college and your gratitude for their consideration.
• If deferred, follow any directions the college sent you exactly. They might ask for an official mid-year report with a follow-up from your school counselor and/or from the student on any new accomplishments or updates on scores or awards along with mid-year grades.  They might also require you to confirm that you wish to be included in their Regular Decision pool.
• If you were deferred and the college remains your first choice, reaffirm this and let them know you will attend there if you are admitted. Make sure your school counselor knows this as well so they can convey this information too.
• If deferred and the college allows for it, you may send an additional letter of recommendation, an arts supplement, or an additional essay –– but make sure the college welcomes this kind of submission. We can discuss this with you further.