Play Ball? College Athletics and Covid-19
08/15/2020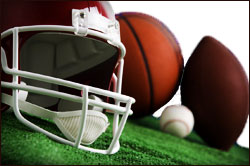 Along with the rest of you, we've been following the news to learn how colleges are planning to handle the upcoming fall semester – not only in terms of online versus in-person classes but also in terms of collegiate athletics. Over the summer, there have been quite a few big headlines about Covid's impact on college sports that had us on the edge of our seats including Brown's, Stanford's and Dartmouth's elimination of several collegiate athletic programs due to ongoing financial ramifications of the pandemic, the NESCAC and Patriot League cancelling all fall sports; the Ivy League putting all fall sports programs on hold until January 2021, and recent decision by the Big Ten, Big East and Pac-12 to cancel all sports this fall. There are currently no universal guidelines for managing athletes and teams during this time, and until now it has largely been left to individual institutions to determine what will be happening with college sports this fall.
With regard to collegiate recruiting, the NCAA extended the recruiting "dead period" through September 30 for all sports, and no prospective athletes are allowed to visit campuses. Coaches are allowed to speak with athletes – which they are doing – and they are recruiting, largely based on past performances and recommendations from high school and club coaches they know and trust. Many of the colleges that are planning to be back on campus this fall are not planning to extend invitations for official visits, but individual sports are developing new recruiting guidance for evaluating athletes at regularly scheduled high school games and practices. Coaches are also recommending that hopeful recruits build and maintain a strong digital presence and proactively reach out to coaches via phone, email, text, and social media.
Other suggestions include:
Researching and creating a college list that meets your academic interests and profile

Developing an athletic resume, completing online recruiting questionnaires, and sending introductory emails to college coaches on your list

Asking your high school and club coaches for full game/competition videos which college coaches can request to evaluate performance and interactions with teammates, opposing players, coaches, and officials

Discussing your college list and preferences with your high school and club coaches so they can proactively advocate for you

Responding immediately to emails and texts from college coaching staff
While the NCAA has waived the standardized testing requirement for D1 and D2 eligibility for college freshmen enrolling this fall and is modifying its stance on P/F grades from this spring for all class years due to closures, they are still saying they will require SAT or ACT test score submission for D1 and D2 eligibility for prospective recruits in the class of 2021 but, much like everything else, we will wait to see how that evolves.