Hats off to the Class of 2023!
07/07/2023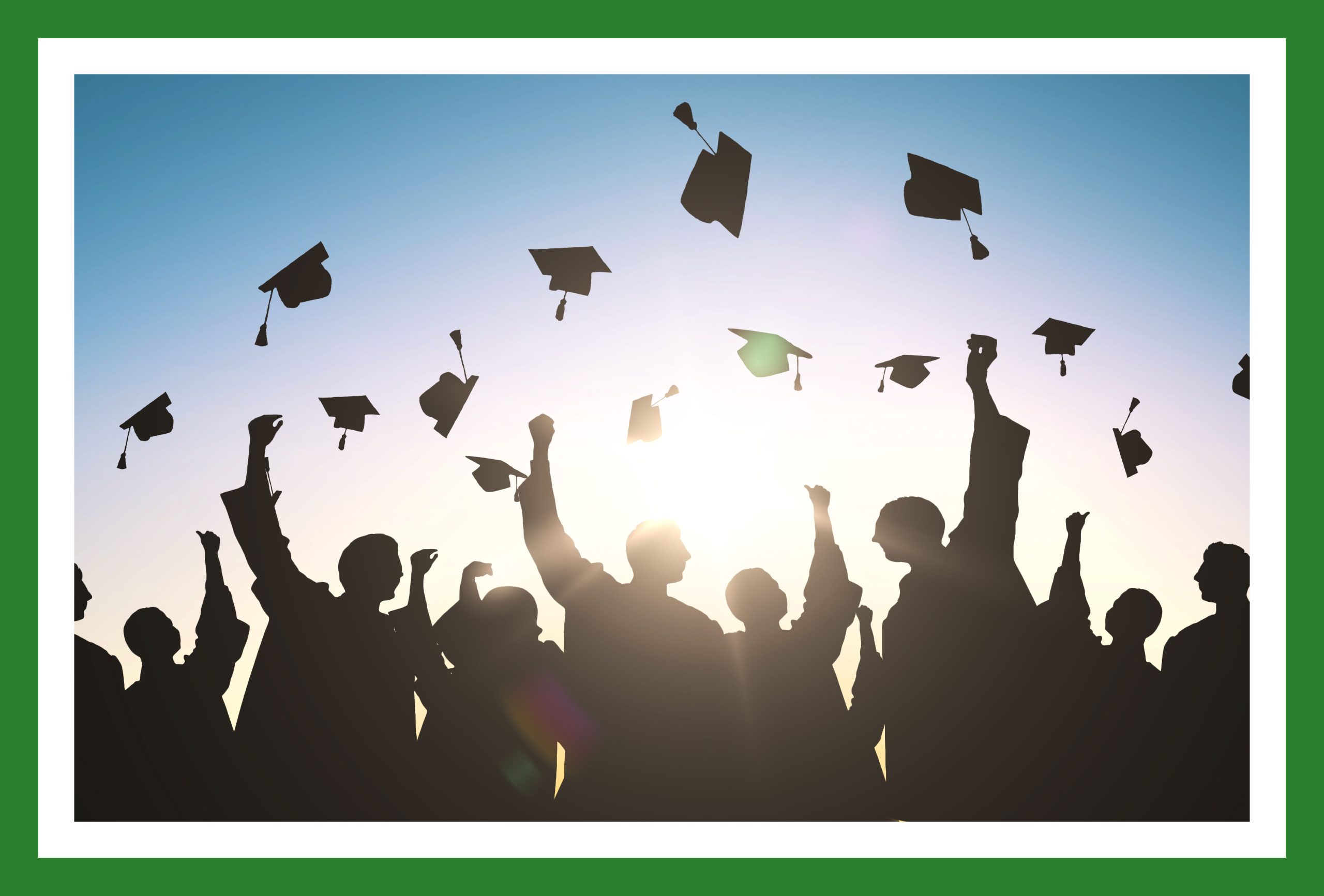 Looking Back on the 2023 Admissions Season
This is the time of year when the Dunbar team gathers to reflect and discuss the past admissions cycle. As we celebrate our wonderful students, we also like to pause and ask ourselves what we learned. Just like the students we advise, we are always striving to deepen our knowledge; in our case, that means staying abreast of changes in the admissions landscape.
It was exciting to see that collectively, we helped more students in 2023 and reviewed more applications than ever before. Our student population continues to broaden, and we were delighted to have applicants from across the US and several countries (including Canada, the United Kingdom, and the Philippines). As such, we advised students across varied curriculum models and learning environments including IB, A-levels, mastery-based, and traditional US systems. Our student population also reflected a wide range of academic interests and talents that informed our work and list-building tasks, especially in areas like computer science, engineering, business, architecture, and the performing arts.
It was also gratifying to see 86% of our students being admitted to their first, second, or third choice college. While our students who applied and were accepted Early Decision (binding) were "done" early in the process, we are also happy to report that our students with longer admission timelines all had multiple acceptance offers to choose from. A big contributing factor to our students' high percentage of favorable outcomes is our assistance in helping them develop thoughtful application strategies and balanced college lists, with colleges distributed across the Likely, Target/Possible, and Reach categories. Overall, our students received acceptances from 144 different colleges!
We saw excellent outcomes with 19% of our students who applied to the most selective colleges (those colleges comprising the Ivy League plus Georgetown, Duke, Northwestern, Vanderbilt, Stanford, U. Chicago, and MIT) receiving acceptances.
Each fall the Dunbar team assesses the likelihood of a student's admission to a particular college by using three categories: Likely (chance of admission greater than 75%), Possible (chance of admission 50%), and Reach (chance of admission less than 25%). Each spring we review our accuracy to ensure we are giving our students the best guidance throughout the application process. The college decision results this year confirmed the accuracy of our group's estimates: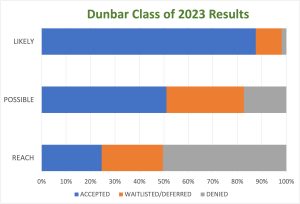 We continue to see many colleges reporting higher acceptance rates for students applying under Early Decision and Early Decision II plans. These are the binding decision plans where a student commits to attending, if accepted. While not every college offers ED (many of the large state universities do not, for example), it continues to be an option we encourage students to consider if they are able. As published college acceptance rates have become increasingly low, we have encouraged students to research and consider EDII plans (also binding but with a later deadline). This is a great option if a student does not get accepted (is deferred or denied) under the EDI plan of their first-choice college. They are then free to apply elsewhere EDII (often, their second-choice college). The advantage associated with applying Early Decision underscores the importance of students visiting colleges during the application process, both to demonstrate interest – more on that later – and to help decide whether to commit. As with everything related to college admissions, there are many nuances (such as colleges with restrictive early plans) so be sure to read the fine print and discuss with us!
With soaring numbers of early applications submitted to many colleges (Clemson University, for example received 26,000 early applications when they introduced Early Action this year), it is not surprising that we continue to see large numbers of deferrals (Clemson deferred 15,000 of those 26,000 Early Action applicants, for context). As a reminder, a deferral is when a student applies in an early round (Early Decision or Early Action) and the college responds with "maybe" and defers the application to review again in the Regular Decision round. While our overall rate of students deferred or waitlisted this year was 23% – which is a high for us and reflects national trends -, we were happy to see that approximately 13% of our students who were deferred in an early round were later accepted; this is higher than we saw last year. While we have had a few students come off waitlists through the month of June, there are no final data since colleges can continue to make waitlist offers throughout the summer.
It is always a disappointment when we see a student deferred, waitlisted, or denied from a college where they are above-profile. Unfortunately, we are seeing more of these decisions as colleges carefully parse though their applicant pools to determine which applicants are most likely to attend if accepted and focus on institutional priorities that maximize yield. This trend highlights how critical it is that students demonstrate interest at those colleges that track interest by visiting campuses and websites, attending in-person and virtual admissions events, interviewing where possible, and actively following colleges on social media.
Since many colleges have remained Test Optional, whether or not to test and whether to submit standardized testing scores remains a significant conversation with our students. We still encourage our students to prepare for and take the standardized test they prefer (SAT or ACT). A strong, competitive score will never hurt your application! That said, what comprises a strong, competitive score depends on the college and the ranges they are seeing from their applicants in that year's admissions cycle. We update these numbers as they are published and have seen that test score ranges are generally continuing to rise since there is no need to submit so-so scores to test optional colleges, just exceptional ones. We had a healthy mix of test submitters and non-submitters this year and will continue to advise students about submitting on a fairly granular level…meaning, a student might submit their scores to some colleges on their list, but not all, depending on the particular score ranges for each college and on individual colleges' attitudes towards test scores.
We appreciate the chance to work with each of our students and their families. We are pleased that our assessments and outcomes continue to be robust. That being said, we are continually aiming to learn and grow as counselors and—as a group—we pay close attention to surprises and changes in the admissions landscape. Being self-reflective is not just for college essays and we are committed to taking time at the end of each admissions cycle to really ask ourselves how we can improve, deepen our collective wisdom, and add value to our clients.
We are so proud of all of our 2023 students and know you will do great things in college and beyond! Thank you for all of your hard work and the care you put into each application. We will continue to watch what is happening in the world of college admissions and what we are seeing in our Dunbar universe to continually provide the best advice possible.
SEE OUR COMPLETE CLASS OF 2023 COLLEGE ACCEPTANCE LIST
Here's to another great cycle in 2024!