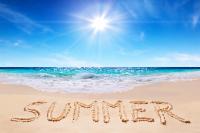 With spring suddenly here, it is time to think about the end of the school year and beginning of SUMMER. Now is the time to develop a good plan for what you would like to do over the summer months: perhaps take a class, pursue an internship, attend a sport camp, audition for a theater or dance intensive, volunteer your time/energy to a local organization, or consider a part-time job? Or perhaps some combination of any of these options. We have always advocated taking advantage of these weeks to pursue interests, earn money, develop responsibility, build skills, and explore passions. If you are looking for summer programs in a particular interest area, we have three amazing resources to share. These websites have searchable databases of hundreds of summer enrichment programs for high school students. There are TONS of opportunities on a wide variety of campuses and a wide range of disciplines from aerospace, architecture, and archeology to zoology. If you are interested in doing an academic program, we suggest you start researching programs now since many have spring application deadlines.
Some examples of programs we have seen our students enjoy and benefit from are listed below with links. While we are not affiliated with any of these programs, we like to share ideas for our students to explore.
Academic Pursuits: These types of programs allow high school students to take college level courses with other high school students on a college campus. These types of "pre-college" programs do not generally provide an admissions boost to the institution that hosts the program. However, they are a great opportunity to get a taste of college life and possibly develop a relationship with faculty at that respective school.
If you are a student with a particular interest in history, The Concord Review is a quarterly journal that publishes original academic writing by high school students.
Independent Research: If you are interested in research, we recommend you explore what kinds of research you can get involved with locally or virtually with a professor. Sometimes it is possible to join an existing research team or get involved in an ongoing project. Additionally, if you have an idea for a project and it aligns with a particular professor's research (which are always listed in faculty bios online), you can propose it. Who knows, it might lead to a collaboration! Remember, a research project doesn't have to be at a "famous" college to have merit! There are also tuition-based research programs that pair you with faculty across various institutions. Some of the most well-known programs to explore are:
STEM-specific interests: This is a list of highly competitive academic summer programs with a STEM focus. A few of them are completely free as well.
Pre-Med:
Medical Immersion Camp is a new summer program that gives high schools students some real-world exposure to working in the medical field.
Business Interests: We have seen students explore a variety of these types of activities to stretch their business and entrepreneurial muscles, beyond participating in an academic summer program.
– starting a small business of your own
– finding a local internship that aligns with a particular interest and/or looking for opportunities to job shadow
– tying fundraising into microfinance opportunities through Kiva
– selling handmade items if you are crafty: handmade jewelry, soap, greeting cards, etc.
– starting a blog or podcast linked to selling products, services, or advertising
– upcycling and re-selling thrifted items on platforms like eBay or Depop
Visual, Creative and/or Performing Arts: We have seen our creative students explore opportunities where they can deepen their skills and talents across the artistic disciplines of writing, music, fine arts, and the performing arts. If you are considering applying to a BFA program or are considering programs where submitting a portfolio is required or encouraged, these types of experiences are a great way to build repertoire, find audition material, and/or develop pieces that showcase your artistry and technical skills. Here are some ideas:
– Exploring local community performance groups (competitive dance groups, local youth symphonies, local theater groups, competing in regional and state competitions).
– If you are interested in technical theater (lighting, sound, costuming) we also suggest you reach out to local theaters for possible summer opportunities.
– Scholastic Art and Writing Competition
– Attend arts camps such as French Woods and Interlochen
– There are also a number of theater arts, film, dance, music, debate, and journalism summer programs that take place on college campuses. Some of these programs will have an audition component. Some of the well-known creative arts programs are:
MPulse at the University of Michigan
Paying Jobs: Summer is a great time to get some old-fashioned work experience! Tremendous work (and life) skills can be develop through jobs such as the ones below:
– Babysitting
– Working as a camp counselor
– Waiting tables or caddying (many local tennis, swim, and golf clubs hire high school students in the summer)
– Scooping ice cream or working in a retail store
– Lifeguarding
– Teaching a skill – during the pandemic we saw lots of teenagers teaching younger students particular skills in an hourly lesson format. We saw students do this both for sports (basketball, baseball, soccer, etc.) and the arts (singing, playing guitar, creative movement, crafting, etc.)
Service: We also recommend ways to use your time to help others in your community or beyond. Looking for local ways to get involved can be very meaningful and does not cost money.
– Identify an area of interest (tutoring, working with kids, working with animals, housing insecurity, food insecurity, environmental causes).
– Consider tying service into an existing interest such as joining groups that teach skills to underserved kids or kids who may be neurodivergent or have physical challenges (soccer, tennis, golf, dance, and therapeutic riding come to mind).
– If you are part of a religious community, look into whether there are opportunities to go on a mission or service trip. Keep in mind that service trips are most valued when they are more focused on community and connection versus exotic travel!
– Other community resources for summer involvement will depend on where you live. This organization, DoSomething provides a wonderful list of ideas in this article as well as a sortable database.
– Consider looking for opportunities at Boys and Girls Clubs, YMCAs or local municipal camps or daycare programs, senior citizens homes, nature centers, soup kitchens, land trusts, and community foundations.